Posts Tagged 'FanDuel'
Oct 4, 2012 Daily Fantasy Basketball Site Reviews, News and Daily Picks
Fanduel has their daily fantasy basketball games up and running!  These are live daily fantasy basketball contests played for real money.  Games only last for one night's NBA action and you draft a new team and pick new opponents everyday.   You can deposit funds onto the site with Paypal or a Credit Card.  I've been playing these for a couple of years and play under the screenname 'Tippy', so feel free to say hello or ask me any questions if you see me in the FD chatroom!  Here's how to get started:
CLICK HERE to register for your FREE account.   Registration only requires that you provide your name, a valid email address and choose a screenname and password.  Very simple.
Next step:  Once you are registered, go to the Game Selection Lobby and select the game you wish to enter.  This is a screenshot of the Lobby:
Final Step:  Fanduel's games range in price from $1 to $500 and you can play against a single opponent or enter a tournament with 5, 10, 20 or unlimited number of opponents.  Once you decide which game you prefer, click the enter button and you will then be presented with the following screen to build your team: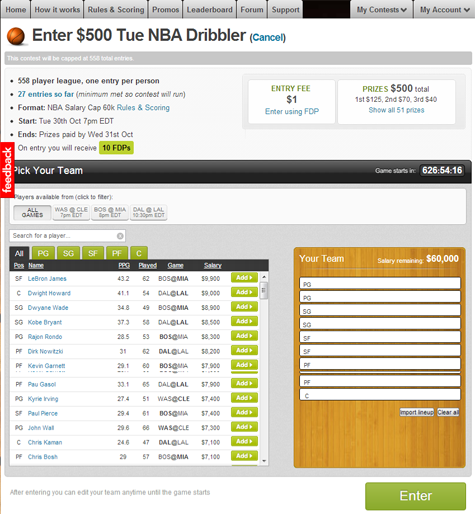 Once your team is built, just click the green Enter button and you are ready to go!  If you want to change your picks at any time, you are allowed to adjust your team as much as you want all the way up until the first NBA game of the night tips off.  After tipoff it's time to sit back and enjoy the night's NBA action and track your daily fantasy team with Fanduel's realtime live scoring.  When you win your game, Fanduel will deposit your winnings into your account a couple of hours after that night's NBA action is complete.
REGISTER NOW FOR FREE and enjoy daily fantasy action!
Tags: daily fantasy contests, daily fantasy sports, FanDuel, fantasy basketball
Sep 5, 2012 Blog
Fanduel is giving players another FREE game this football season and all you have to do is REGISTER HERE to get in on the action and pickup your share of the $50,000 in free cash prizes!  It's also a great way to check out the site without having to risk any of your own money.
Here's how it works:
1)  Qualifiers run every week for 16 weeks, so you have 16 chances to win.  Peter plays in them too, can you beat him?
2)  Each weekly Qualifier is free to enter with $500 in cash prizes to the top 72 finishers.
3)  The winner of each weekly qualifier plays in the Week 17 final for a share of $10,000.
4)  The winner of the Week 17 Final plays Peter heads up for an extra $5000.
If you are looking for a great risk-free way to spice up your fantasy football Sundays this year and pickup a little cash with minimal time commitment, then you definitely want to get in on this action.
ENTER NOW FOR FREE!!
Mar 17, 2012 Blog
Baseball season is almost here and my posting at Fantasy Basketball Daily will now only consist of fantasy basketball playoff advice a couple of times a week for the rest of the regular season.   I got out of the flow by missing last week and I've got to miss a few days this week too, so I figure it's best to move to weekly playoff advice now since I was going to scale back posting anyway once opening day of baseball season got here.
I'll also be maintaining the blog and putting up weekly posts in the offseason about the NBA draft, trades, starting position battles, etc., so keep me in your favorites tab!
I've enjoyed posting the Pre-Game report for all the daily fantasy cash game players out there and I hope you guys have a great remainder of the season.  Don't forget that all the daily sites like Fanduel, Daily Joust and DraftStreet will be having daily fantasy baseball cash games and tournaments, so definitely check them out!  I'll be playing daily, so say hello if you see me around  the chatrooms.
Good luck the rest of the season and I'll hit you guys up with some fantasy basketball playoff advice later this week.
Tags: daily fantasy picks, daily fantasy sports, Daily Joust, FanDuel, fantasy basketball
Mar 13, 2012 Blog
Tuesday's Fantasy Basketball Daily Tournament Schedule:
Fanduel $1500 NBA Assist – 7:00 PM EST, $5 Entry, Top 36 Teams Paid
Fanduel $2500 NBA Shot – 7:00 PM EST, $2 Entry, Top 123 Teams Paid
Fanduel $4000 NBA Rebound – 7:00 PM EST. $10 Entry, Top 53 Teams Paid
Fanduel $4000 NBA Slam – 7:00 PM EST, $25 Entry, Top 16 Teams Paid
Fanduel Two Player Head to Head Matches – 7:00 PM EST, $1 to $535 Entry
Tuesday's NBA Schedule, Probable Starting Lineups, Lines, Injuries and Daily Fantasy Tournament Cash Game Picks
Miami (-4)  @ Orlando    189.5 Total
MIA:  M. Chalmers, D. Wade, L. James, C. Bosh, J. Anthony
ORL:  J. Nelson, JJ Redick, H. Turkoglu, R. Anderson, D. Howard
Jason Richardson is out.  JJ Redick will get the start.
Jameer Nelson has a decent matchup and could be a nice daily play if the Heat focus too much on Dwight Howard.
Daily Fantasy Tournament Sleeper Pick:  JJ Redick
Toronto @ Cleveland  (-4)   194 Total
TOR:  J. Bayless, D. DeRozan, J. Johnson, A. Johnson, A. Bargnani
CLE:  K. Irving, A. Parker, A. Gee, A. Jamison, R. Hollins
Jose Calderon is out.  Jerryd Bayless will get the start at PG and makes a solid daily play.
Jerryd Bayless could have some problems covering Kyrie Irving.
Andrea Bargnani has a nice matchup against the soft interior of the Cavs.
Daily Fantasy Tournament Sleeper Pick:  Jerryd Bayless
Portland @ Indiana (-3.5)   190 Total
POR:  J. Crawford/R. Felton, W. Matthews, G. Wallace, L. Aldridge, M. Camby
IND:  D. Collison, P. George, D. Granger, D. West, R. Hibbert
Daily Fantasy Tournament Value Pick:  Roy Hibbert
LA Lakers @ Memphis (-1)   182 Total
LAL:  D. Fisher, K. Bryant, M. Peace, P. Gasol, A. Bynum
MEM:  M. Conley, T. Allen, S. Young, M.  Speights, M. Gasol
Rudy Gay is out with a concussion.  Sam Young will get the start.
Look for OJ Mayo to pick up some extra minutes as the Grizz will need someone to pickup the offense with Gay out.
Zach Randolph is doubtful.
Kobe Bryant draws the tough coverage of Tony Allen.
Daily Fantasy Tournament Value Pick:  Pau Gasol
Houston @ Oklahoma City (-11)   204 Total
HOU:  G. Dragic, C. Lee, C. Parsons, L. Scola, S.  Dalembert
OKC:  R. Westbrook, D. Cook, K. Durant, S. Ibaka, K. Perkins
Jordan Hill is out with the flu.
Kevin Martin is a gametime decision.  Courtney Lee would get the start if Martin can't go.
Kyle Lowry could be out for the next two weeks.
Daily Fantasy Tournament Sleeper Pick:  Goran Dragic
Daily Fantasy Tournament Value Pick:  Russell Westbrook
Washington @ Dallas (-12.5)   198.5 Total
WAS:  J. Wall, N. Young, C. Singleton, T. Booker, J. McGee
DAL:  J. Kidd, V. Carter, S. Marion, D. Nowitzki, B. Haywood
Brendan Haywood is probable.
Daily Fantasy Tournament Value Pick:  Dirk Nowitzki
Atlanta @ Denver (-5.5)   195.5 Total
ATL:  J. Teague, K. Hinrich, J. Johnson, J. Smith, Z. Pachulia
DEN:  T. Lawson, A. Afflalo, D. Gallinari, Nene, K. Faried
Rudy Fernandez is probable.
Daily Fantasy Tournament Value Pick:  Josh Smith
Golden State @ Sacramento (-2.5)   207.5 Total
GSW:  S. Curry, M. Ellis, D. Wright, D. Lee, E. Udoh
SAC:  T. Evans, M. Thornton, I. Thomas, J. Thompson, D. Cousins
Stephen Curry is a gametime decision with an ankle injury, as usual.
Daily Fantasy Tournament Value Picks:  Monta Ellis, David Lee
Tags: daily fantasy picks, daily fantasy sports, FanDuel, fantasy basketball
Mar 7, 2012 Blog
Just wanted to let you guys know that I'm out of town for the rest of this week and headed to Atlantic City to play some poker, so there won't be any posts.  I'll be back Sunday and will return to regular posting on Monday, March 12.
Also, don't forget about this week's Free Entry Fantasy Basketball Tournaments on Friday night.  Fanduel is hosting the Friends of Fanduel $200 on Friday night.  You can register for free by CLICKING HERE.
Daily Joust is also having a Free Entry $100 Fantasy Basketball Tournament on Friday night.  You can register for free by CLICKING HERE.
See you guys Monday.
Tags: daily fantasy sports, Daily Joust, FanDuel, fantasy basketball