Posts Tagged 'daily fantasy contests'
Apr 18, 2014 Blog
Here's the schedule for Saturday's 2014 NBA Playoff Games:
Game 1 – Sat. April 19, Brooklyn at Toronto, 12:30 p.m., ESPN
Game 1 – Sat. April 19, Golden State at L.A. Clippers, 3:30 p.m., ABC/R
Game 1 – Sat. April 19, Atlanta at Indiana, 7 p.m., ESPN
Game 1 – Sat. April 19, Memphis at Oklahoma City, 9:30 p.m., ESPN
Here's my FanDuel $15,000 NBA Shot Tournament selections for Saturday:
PG   Jeff Teague   $6800
PG   Deron Williams   $6700
SG   Klay Thompson   $6200
SG   DeMar DeRozan   $7600
SF   Paul Pierce   $5400
SF   Paul George   $8700
PF   Zach Randolph   $7600
PF   David West   $6700
C     Roy Hibbert   $4100
Salary Cap $60,000,  Salary Cap Used $59,800
FanDuel currently has their real money games posted for Saturday, so start building your team!
Nov 5, 2012 Blog
There are 8 NBA games on the schedule and a full slate of fantasy basketball tournaments tonight at every entry price level.  Registration is easy, so get signed up for free and get in tonight's games!!  Here's tonight's tournament schedule followed by a few tournament picks:
$1000 NBA Dribbler – $1 Entry fee, $150 for 1st, 1116 Teams, Top 122 spots win
$5000 NBA Shot – $2 Entry fee, $700 for 1st, 2790 Teams, Top 250 spots win
$3000 NBA Assist – $5 Entry fee, $600 for 1st, 670 Teams, Top 71 spots win
$5000 NBA Rebound – $10 Entry fee, $1200 for 1st, 559 Teams, Top 55 spots win
$5000 NBA Slam – $25 Entry fee, $1000 for 1st, 223 Teams, Top 23 spots win
$2000 NBA Swish – $50 Entry fee, $750 for 1st, 44 Teams, Top 6 spots win
$3000 NBA Dunk – $100 Entry fee, $1200 for 1st, 33 Teams, Top 4 spots win
NBA 50/50 Leagues – $1 to $25 Entry fee available, Top half of field wins
Two Player Head to Head Games – $1 to $109 Entry Fee Available
Point Guard
Damian Lillard ($6400) – Lillard has looked great to start the season and his price is slowly creeping up from the $5000 starting level.  I would guess this is the last week he'll be priced below $7000, so use him now in a great matchup against the weak Mavs defense.
Darren Collison ($5900) – Collison is still very cheap, even after turning in a couple of solid performances, and tonight he gets a matchup against the inexperienced defense of Damian Lillard.  Great value here.
Mo Williams ($6300) – Williams has been jacking up non-stop threes and should continue that trend tonight.  This isn't as good of a matchup as he usually gets because the backcourt of Mike Conley and Tony Allen is pretty good defensively, but it's still pretty juicy for the salary price.
Shooting Guard
Dwyane Wade ($8700) – I think Wade is a must play tonight if you have the salary cap space.  He's shown to be healthy and has a favorable matchup against a fast paced Suns team with Jared Dudley opposing him at SG.
Paul George ($7100) – George will match up against Danny Green tonight and should post a big line.
Dion Waiters ($5500) – Fanduel has been a little slow to adjust Waiters' salary, so if you want to gamble on a bargain at shooting guard, Waiters is great option against the weak defense of Jamal Crawford.
Small Forward
Dorell Wright ($6800) – Jason Richardson is out tonight and I'd expect that Evan Turner and Nick Young will handle the SG spot, which leaves Wright to absorb most of the minutes at SF.  He needs to make a strong showing to make a case for future minutes.
Danny Green ($5600) – Check Manu Ginobili's health status and if it looks like he's out, then grab Green as a great low salary sleeper tonight.
Carmelo Anthony ($8300) – Melo is about all the Knicks have going on the offensive side of the ball and he should be able to abuse Thaddeus Young and Spencer Hawes for a big night.
Power Forward
Michael Beasley ($6500) – Beasley put up a real stinker to start the season, but has bounced back nicely.  His salary still reflects his one bad game and he should be able to earn his $6500 salary against Miami since the Suns will likely be in catch up mode all night.  Sometimes garbage time stats are good.
J.J. Hickson ($6800) – Fanduel still has Hickson listed at PF, so feel free to use him against the Mavs.  Chris Kaman is still a bit limited, so Hickson could have an opportunity to get the best of him.
Chris Bosh ($7600) – Bosh is an interesting play after scoring 40 points Saturday against the Nuggets.  He's matched up against Marcin Gortat who gave up a huge game to the inexperienced Nikola Vucevic.  Gortat could be a little fatigued after playing last night and Bosh could take advantage.  Sometimes it's just smart to ride the hot hand, and Bosh certainly had it Saturday.
Center
Brook Lopez ($6900) – Lopez catches a scheduling break here with Kevin Love out of the lineup.  He should be able to put up decent points against the more immobile Nikola Pekovic.
Anderson Varejao ($7000) – Varejao has put up a couple of monster games and makes a solid mid-range salary play against a Clippers team who hasn't been rebounding all that well.
Roy Hibbert ($7400) – Hibbert will have a big size advantage against the Spurs if they choose to go with Boris Diaw at center.  More than likely, Tiago Splitter will get the bulk of the minutes, but that's still a pretty good matchup for Hibbert.
Tags: daily fantasy contests, daily fantasy picks, FanDuel, fantasy basketball
Oct 26, 2012 Blog
The opening tipoff  is just a few days away and most of the daily fantasy sites have their tournaments open for business!!  I think I'm entered in just about everything for opening night, LOL.
I'm sure some of the sites will also offer some FreeRoll Tournaments and I'll try to get those posted in my daily articles, so be on the lookout for those tourneys.  I'll also try and roundup some bonus codes and deposit bonuses for you guys.  Also, all of the sites listed below have Head to Head Two Player cash games where you play head to head against a single opponent to win cash.
I'm going to leave the fantasy rankings up on the homepage for the first week of the season for late drafters, but after the first week I'll be replacing that area of the homepage with the daily tournament schedule, injury lists, starting lineups and some daily tournament picks.
Here's what's on the tournament schedule for opening night:
FANDUEL (My Personal Favorite for Tournaments):
Fanduel $2000 NBA Shot – $2 Entry fee, $300 for 1st, Top 120 Teams Win Cash
Fanduel $1000 NBA Assist – $5 Entry fee, $250 for 1st, Top 26 Teams Win Cash
Fanduel $3000 NBA Rebound – $10 Entry fee, $750 for 1st, Top 35 Teams Win Cash
Fanduel $3000 NBA Slam – $25 Entry fee, 134 Team Limit, Top 17 Teams Win Cash
Fanduel $1000 NBA Swish – $50 Entry fee, 22 Team Field, Top 3 Teams Win Cash
DAILY JOUST:
Daily Joust Camelot – $22 Entry Fee, 25 Team Field, Top 5 Teams Win Cash
Daily Joust Gladiator Weekly Survivor Tournament – $25 Entry Fee, 22 Team Field, Top 3 Teams Win Cash
Daily Joust King John Qualifier – $5 Entry, Top 10 Teams Win Cash
DRAFTKINGS:
DraftKings $2000 Showtime – $16 Entry Fee, 135 Team Field, Top 30 Teams Win Cash
DraftKings $1000 Highroller – $109 Entry Fee, 10 Team Field, Top 3 Teams Win Cash
DraftKings $200 Daily Dollar – $1 Entry Fee, 230 Team Field, Top 25 Teams Win Cash
DraftKings $1000 Triple Threat – $44 Entry Fee, 25 Team Field, Top 5 Teams Win Cash
DRAFTSTREET:
DraftStreet $1000 – $11 Entry Fee, 100 Team Field, Top 12 Teams Win Cash
DraftStreet $750 – $5 Entry Fee, 160 Team Field, Top 15 Teams Paid
DraftStreet $3000 – $109 Entry Fee, 30 Team Field, Top 5 Teams Win Cash
DraftStreet $1000 Double Up – $22 Entry Fee, 50 Team Field, Top Half of Field Wins Cash
DRAFTDAY:
DraftDay $3000 Worm – $109 Entry Fee, 30 Team Field, Top 5 Teams Win Cash
DraftDay $675 Sager Bomb – $5 Entry Fee, 150 Team Field, Top 22 Teams Win Cash
DraftDay $338 Unibrow – $2.50 Entry Fee, 150 Team Field, 225+ Score Pot Split
DraftDay $180 Rose Ruckus – $1 Entry Fee, 200 Team Field, Top 34 Teams Win
FANTASY SPORTS LIVE: 
FANTASYSPORTSLIVE.com $25 – $1 Entry, 25 Team Field, Top 5 Teams Win Cash
STARSTREET:
StarStreet $400 – $5.38 Entry Fee, 40 Team Field, Top 10 Teams Win Cash
StarStreet $400 – $10.70 Entry Fee, 40 Team Field, Top Half of Field Wins Cash
Tags: daily fantasy contests, Daily Joust, DraftStreet, FanDuel, fantasy basketball
Oct 16, 2012 Blog
Kay Adams will be on the Late Late Show with Craig Ferguson tonight to talk fantasy sports, so tune in and give her some support.  Kay is affiliated with a couple of the daily fantasy sites that I play on and is a great representative for the Daily Fantasy Sports Industry.  It will be interesting to see if she mentions the growing Daily Fantasy Sports industry tonight during her appearance.
I posted last week about the first couple of rounds of the SiriusXM Dynasty League draft, which you can read here, and I have to say this is the slowest draft I've ever done.  We're now in round six.   If you read the post from Thursday, you'll remember that my first two picks were Marc Gasol and Dwyane Wade.  I like posting these updates as the draft progresses so that you guys can get my entire thought process and planning strategy as it occurs rather than just a recap after all the action is done.  Here's what's transpired since then:
Remainder of Round 2
Matt Deutsch SiriusXM Fantasy Sports RadioIguodala, Andre SF DEN
Tom Lorenzo-Damn Lies & StatisticsIbaka, Serge PF OKC
Andrew Feingold -RotoExperts.comGasol, Pau PF LAL
Tony Cincotta-SiriusXMCurry, Stephen PG GS
Kyle McKeown -RotowireWall, John PG WAS
Corey ParsonGay, Rudy SF MEM
Some real gambling going on in the second round with Serge Ibaka, Stephen Curry and John Wall.  I'm not a huge Ibaka fan.  Yes, the blocks are nice, but he's definitely weak in most of the other categories and sometimes hitching your team to a one category player can be a disaster, especially if that player gets hurt.  John Wall is out for the first month, maybe more, with a patella tendon injury.   Stephen Curry is still dealing with chronic ankle problems that can flare up without warning.  Not what you want from your second round pick in a 16 team league.
Round 3
Corey ParsonEllis, Monta SG MIL
Kyle McKeown -RotowireLillard, Damian PG POR
Tony Cincotta-SiriusXMDragic, Goran PG PHO
Andrew Feingold -RotoExperts.comGeorge, Paul SG IND
Tom Lorenzo-Damn Lies & StatisticsHorford, Al C ATL
Matt Deutsch SiriusXM Fantasy Sports RadioGortat, Marcin C PHO
Dustin Swedleson- College Sports NationHoliday, Jrue PG PHI
Adam Ronis -Rotoexperts.comLowry, Kyle PG TOR
Rich Wilson- Prospect361.comNowitzki, Dirk PF DAL
Jeff Andriese Damn Lies & StatisticsBatum, Nicolas SF POR
Justin Fensterman- SiriusXM Fantasy Sports RadioHibbert, Roy C IND
Charlie ZegersRose, Derrick PG CHI
Nick Raducanu-FantasyTrade411Parker, Tony PG SA
Drew Dinkmeyer- Fantistics.comNoah, Joakim C CHI
Allen Tippy – FantasyBasketballDaily.comConley, Mike PG MEM
Ethan Haskell- RotogrindersGranger, Danny SF IND
With Wade and Marc Gasol already locked up, I had my eye on a point guard to cover the the 'small stats' of assists, steals and threes.  The third round saw 6 point guards go off the board before it got to me, in addition to the 12 point guards that went off in the first two rounds, so the pickings were pretty slim.  With 18 PG's off the board, I was thrilled to get Mike Conley, as he offers exactly what I was looking for with 1 three, 6 assists and 2.2 steals per game.  Conley was second in the league in steals in 2012, second only to Chris Paul.  His 13 points on 43.3% shooting aren't too bad and I'll definitely take the 77.5 career FT%.  After selecting Conley, I now need to get some scoring and threes.
Picks I didn't like in Round 3:  Nic Batum, Paul George, Dirk Nowitzki and Damian Lillard.  I think the 'dynasty factor' pushed these guys too far up on the draft board and made them really expensive gambles.  Things are going to have to go perfectly for these players to justify their high selection, especially with established guys still available.  The Nowitzki pick is just scary given his knee injury.
Round 4
Ethan Haskell- RotogrindersBargnani, Andrea C TOR
Allen Tippy – FantasyBasketballDaily.comPierce, Paul SF BOS
Drew Dinkmeyer- Fantistics.comAnderson, Ryan PF NO
Nick Raducanu-FantasyTrade411Millsap, Paul PF UTA
Charlie ZegersEvans, Tyreke PG SAC
Justin Fensterman- SiriusXM Fantasy Sports RadioKidd-Gilchrist, Michael SF CHA
Jeff Andriese Damn Lies & StatisticsThompson, Klay SG GS
Rich Wilson- Prospect361.comStoudemire, Amar'e PF NY
Adam Ronis -Rotoexperts.comIlyasova, Ersan PF MIL
Dustin Swedleson- College Sports NationJohnson, Joe SG BKN
Matt Deutsch SiriusXM Fantasy Sports RadioLopez, Brook C BKN
Tom Lorenzo-Damn Lies & StatisticsThornton, Marcus PG SAC
Andrew Feingold -RotoExperts.comBosh, Chris PF MIA
Tony Cincotta-SiriusXMRandolph, Zach PF MEM
Kyle McKeown -RotowireRubio, Ricky PG MIN
Corey ParsonTurner, Evan SG PHI38 min 18 sec
I had Danny Granger all lined up to bolster my teams three point shooting, but like most good plans, it didn't happen.  Granger went to the team drafting behind me on the turn, so on to plan B.  Maybe I could add some scoring and threes from a non-traditional spot at center.  Andrea Bargnani, gone with the next pick.  On to plan C.  Paul Pierce was still there, but in a dynasty league I just didn't want to take him at 35 years old, but the need for scoring and threes was pretty desperate and I hit the draft button.  I like Pierce and I think he'll go for 17 points, 5 rebounds, 4 assists, 1 steal and 1.5 threes, but next season he could be a problem.  One thing I do like about Pierce though is his game could become more perimeter oriented as he ages, which helps me in three pointers for the future.   I also considered Ryan Anderson here, but I'm down on Anderson and just don't think he's going to get anywhere close to last season's production.  Paul Millsap also crossed my mind, but his contract status and the presence of Derrick Favors concern me and his lack of three point shooting didn't help me either.   I've used up my one free 'old man' pass on Pierce, so I'm probably not looking to draft anyone else over the age of 30 in this dynasty league setup.
Picks I didn't like in Round 4:  Evan Turner and Michael Kidd-Gilchrist.  Turner just doesn't have it and now he's got to compete with a couple of similar players in Dorell Wright and Thaddeus Young at SF.   He's also fourth in the backcourt rotation behind Holiday, Richardson and Young.  MKG is an ok pick I guess, but it seems like a really expensive gamble this early in the draft when guys like Chris Bosh, Brook Lopez, Amare Stoudemire, Zach Randolph and Danilo Gallinari were still out there at the forward spot.
Round 5
Corey ParsonFaried, Kenneth PF DEN
Kyle McKeown -RotowireMcGee, JaVale C DEN
Tony Cincotta-SiriusXMScola, Luis PF PHO
Andrew Feingold -RotoExperts.comMatthews, Wesley SG POR
Tom Lorenzo-Damn Lies & StatisticsMayo, O.J. SG DAL
Drew Dinkmeyer- Fantistics.comTeague, Jeff PG ATL
Dustin Swedleson- College Sports Nation*Felton, Raymond PG NY
Adam Ronis -Rotoexperts.comGallinari, Danilo SF DEN
Rich Wilson- Prospect361.comWilliams, Mo PG UTA
Jeff Andriese Damn Lies & StatisticsGarnett, Kevin C BOS
Justin Fensterman- SiriusXM Fantasy Sports RadioHumphries, Kris PF BKN
Charlie ZegersGordon, Eric SG NO
Nick Raducanu-FantasyTrade411Collison, Darren PG DAL
Matt Deutsch SiriusXM Fantasy Sports RadioKnight, Brandon PG DET
Allen Tippy – FantasyBasketballDaily.comDeng, Luol SF CHI
Ethan Haskell- RotogrindersWalker, Kemba SG CHA
I have to say that the player I wanted, Luol Deng, actually fell to me in this round, and that hardly ever seems to happen.  I had Deng queued up first and Danilo Gallinari second to add a 'small stat, big stat' combo type player for points, threes, rebounds and steals.  Every mention of Deng seems to be about his wrist problem and how it's going to kill his shooting percentage, but I'm not really sold on that arugment.  First, if you go back and look at last season's game log, Deng hurt his wrist at the end of January.  He was already shooting about 41% up to that point anyway, so maybe he was already slumping before the injury.  When he returned, he finished the season around 41%, so his shooting didn't really get worse after the injury.  You would think that the worst shooting would occur nearer to the injury and the further away we get from it, and the more time it has to heal, the better his shooting will get.  Also, Deng had this same injury to his right wrist during his rookie season, so it's an easily correctable situation, which makes me feel confident about his value for the next couple of years.  All reports have the wrist doing just fine, so the only concern I have is that the Bulls fall out of the race and Deng sits the last month or so to finally get the surgery.
Picks I didn't like in Round 5:  JaVale McGee is in a logjam in Denver and I don't think he gets more than 25-27 minutes a game.   Eric Gordon has an injury, and an attitude problem, neither of which help the other.  Kevin Garnett has two years at most left in the NBA, which isn't what you want in a dynasty league, but I can't really criticize since I did the same thing with Paul Pierce.
Round 6
Ethan Haskell- RotogrindersAfflalo, Arron SG ORL
Allen Tippy – FantasyBasketballDaily.comPekovic, Nikola C MIN
Drew Dinkmeyer- Fantistics.comChandler, Tyson C NY
At this point, I've filled both guard spots and both forward spots and one of my center spots, now I need to fill my remaining  center spot.  With 28 picks before I get to draft again, there won't be anything left on the center board by the time it gets back to me.  I've just selected Luol Deng and his 41% FG shooting, so now I definitely need someone to offset that.  It's a choice between Tyson Chandler and Nikola Pekovic.  Chandler had an insane 67.9 FG% last season, but he only got 5.7 shots per game.  Pekovic shot 56.4% on nearly twice as many attempts.   I'll take the volume at 56.4%.  Pekovic is also just 26 years old with room to grow, while Chandler is 30 and his ceiling is pretty well capped.  While I'd like to have Chandler's blocks, if you'll remember I set this up earlier in the draft by taking Dwyane Wade and his shotblocking from the guard spot, so now I don't have to let blocks rule my choice at center.  Even though Pekovic will only get 1 block per game, he should get 15 points a night with excellent percentages from the field and free throw line.  I think Drew had the same needs as me, as he selected Chandler with the very next pick.  I'm now pretty certain that the cupboard is going to be very bare at center when the draft returns to me.
At this point, I need 1 G/F, 1 F/C and 2 G/F/C utility players, therefore my roster positional needs are very flexible and I can simply go for the best talent left on the board.  Here's my roster as it currently stands with last seasons stats:
Player           Pts   Reb   Ast   Stl   Blk   TO   FGA   FG%   FTA   FT%  3PA
G   Wade     22.1   4.8   4.6    1.7   1.3    2.6    17.1    49.7   6.1    79.1    1.1
G Conley     12.7   2.5   6.5    2.2    .2     2.0    11.0   43.3   2.5   86.1     2.6
F  Pierce      19.4   5.2   4.5    1.1    .4     2.8    14.6   44.3   5.6   85.2    4.5
F  Deng        15.3   6.5   2.9    1.0   .7     1.8     14.0   41.2   3.1    77.0    4.0
C  M. Gasol 14.6   8.9   3.1    1.0  1.9     1.9    11.4    48.2   4.9   74.8    0.0
C  Pekovic   13.9    7.4     .7     .6   .7      1.9      9.7    56.4   4.0   74.3    0.0
Oct 4, 2012 Daily Fantasy Basketball Site Reviews, News and Daily Picks
Fanduel has their daily fantasy basketball games up and running!  These are live daily fantasy basketball contests played for real money.  Games only last for one night's NBA action and you draft a new team and pick new opponents everyday.   You can deposit funds onto the site with Paypal or a Credit Card.  I've been playing these for a couple of years and play under the screenname 'Tippy', so feel free to say hello or ask me any questions if you see me in the FD chatroom!  Here's how to get started:
CLICK HERE to register for your FREE account.   Registration only requires that you provide your name, a valid email address and choose a screenname and password.  Very simple.
Next step:  Once you are registered, go to the Game Selection Lobby and select the game you wish to enter.  This is a screenshot of the Lobby:
Final Step:  Fanduel's games range in price from $1 to $500 and you can play against a single opponent or enter a tournament with 5, 10, 20 or unlimited number of opponents.  Once you decide which game you prefer, click the enter button and you will then be presented with the following screen to build your team: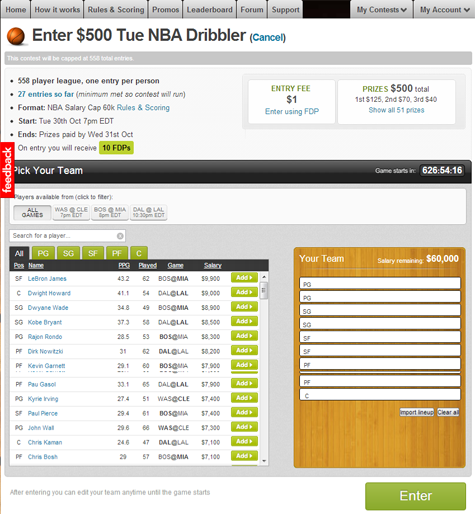 Once your team is built, just click the green Enter button and you are ready to go!  If you want to change your picks at any time, you are allowed to adjust your team as much as you want all the way up until the first NBA game of the night tips off.  After tipoff it's time to sit back and enjoy the night's NBA action and track your daily fantasy team with Fanduel's realtime live scoring.  When you win your game, Fanduel will deposit your winnings into your account a couple of hours after that night's NBA action is complete.
REGISTER NOW FOR FREE and enjoy daily fantasy action!
Tags: daily fantasy contests, daily fantasy sports, FanDuel, fantasy basketball