Oct 4, 2012 Daily Fantasy Basketball Site Reviews, News and Daily Picks
Fanduel has their daily fantasy basketball games up and running!  These are live daily fantasy basketball contests played for real money.  Games only last for one night's NBA action and you draft a new team and pick new opponents everyday.   You can deposit funds onto the site with Paypal or a Credit Card.  I've been playing these for a couple of years and play under the screenname 'Tippy', so feel free to say hello or ask me any questions if you see me in the FD chatroom!  Here's how to get started:
CLICK HERE to register for your FREE account.   Registration only requires that you provide your name, a valid email address and choose a screenname and password.  Very simple.
Next step:  Once you are registered, go to the Game Selection Lobby and select the game you wish to enter.  This is a screenshot of the Lobby:
Final Step:  Fanduel's games range in price from $1 to $500 and you can play against a single opponent or enter a tournament with 5, 10, 20 or unlimited number of opponents.  Once you decide which game you prefer, click the enter button and you will then be presented with the following screen to build your team: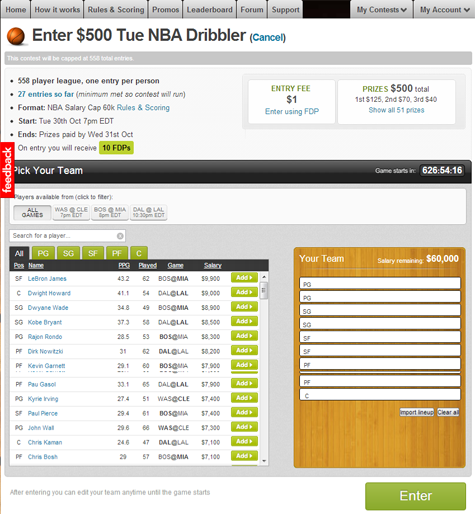 Once your team is built, just click the green Enter button and you are ready to go!  If you want to change your picks at any time, you are allowed to adjust your team as much as you want all the way up until the first NBA game of the night tips off.  After tipoff it's time to sit back and enjoy the night's NBA action and track your daily fantasy team with Fanduel's realtime live scoring.  When you win your game, Fanduel will deposit your winnings into your account a couple of hours after that night's NBA action is complete.
REGISTER NOW FOR FREE and enjoy daily fantasy action!
Tags: daily fantasy contests, daily fantasy sports, FanDuel, fantasy basketball