Posts Tagged 'daily fantasy sports'
Oct 28, 2012 Blog
DraftKings is one of the newer daily fantasy sites on the scene, but it's quickly becoming one of the most popular and one of my favorites.  Just to show how far they've come, they are sponsoring Greg Merson who made this year's World Series of Poker final table, so be on the lookout for the DraftKings logo on his shirt at the ESPN televised final table!  I've added them to my list of sites where I'll be playing daily fantasy basketball this season and wanted to hit the highlights of the site for you guys.
Registration – You can REGISTER FOR FREE HERE.    When you click through the link you'll land on the homepage for DraftKings.  Simply create a username and password and then provide a valid email address.  You will be emailed a verification and you're all set to play!
Funding – You do not have to fund your account when you create it.  You can play a few free games to get a feel for the site and then when you decide to play for real money your account can be funded with Mastercard, Visa, Discover, American Express or Paypal.  Withdrawals are quick and easy.  My personal favorite is to fund with Paypal so that you can withdraw the same way.  It's quicker to make withdrawals with the Paypal setup.  You can also withdraw by paper check if you want that method.
Sign Up Bonus – When you register through the link above, you also earn a 100% bonus on your first account deposit.  For example, if you deposit $100, then DraftKings will add an additional $100 to your account.  This only applies to your first deposit.
Customer Service – If you have any questions about the site, DraftKings is very quick in returning emails, usually within 30 minutes.  They have one of the better customer service departments around.
Daily NBA Fantasy Basketball Game Setup:
DraftKings Salary Cap Game uses a roster setup that is unique in the daily industry.  Their rosters are setup using 1 PG, 1 SG, 1 SF, 1 PF, 1 C, 1 G, 1 F and 1 Utility player.  The G, F and Utility players really provide flexibility when building your roster.  They provide $50,000 to construct your team and the player pricing is very accurate.
Their Scoring is as follows:
Point Scored = +1 pts
Three Pointer Bonus = +.5 pts
Rebound = +1.25 pts
Assist = +1.5 pts
Block = +2 pts
Steal = +2 pts
Turnover = -.5 pts
Double-Double = +1.5 pts (One allowed per player)
Triple Double = +3 pts (One allowed per player)
One general feature that I know a lot of guys look for is the multi-game edit.  DraftKings has this feature for it's games.  This feature simply allows users to edit more than one roster simultaneously.  For example, if you find out five minutes before tipoff that Rajon Rondo is hurt, then you simply use the multi-game edit button to select a player to replace Rondo and it inserts that player into all your games.  It's a huge timesaver and a true lifesaver in some situations.
DraftKings also allows importing of your existing roster when you join additional games.  For example, if you join a $5 game and then decide to join a $10 game, you can simply import your roster from the previous $5 game if you want.  It's a real timesaver.
Types of Games Offered:
DraftKings pretty much offers any kind of game you could want.  A complete list of all the games is continuously posted on the DraftKings Homepage.  They offer head to head two player contests as well as 3, 5, 10 and 20 player contests.  They have a full roster of large field tournaments that range in size from $1 entry to $109 entry.
Their tournament offerings include guaranteed tournaments, double up tournaments, steps tournaments and multi/single entry tournaments.  There is truly something for every kind of tournament player.
I've tried to hit the highlights for you guys, but the best way to truly experience the site is to SIGN UP FOR FREE and take a look for yourself.  Good luck this season and I'll be posting some of my favorite tournament picks in my daily articles for the DraftKings tourneys!
Tags: daily fantasy basketball, daily fantasy sports, DraftKings, fantasy basketball
Oct 4, 2012 Daily Fantasy Basketball Site Reviews, News and Daily Picks
Fanduel has their daily fantasy basketball games up and running!  These are live daily fantasy basketball contests played for real money.  Games only last for one night's NBA action and you draft a new team and pick new opponents everyday.   You can deposit funds onto the site with Paypal or a Credit Card.  I've been playing these for a couple of years and play under the screenname 'Tippy', so feel free to say hello or ask me any questions if you see me in the FD chatroom!  Here's how to get started:
CLICK HERE to register for your FREE account.   Registration only requires that you provide your name, a valid email address and choose a screenname and password.  Very simple.
Next step:  Once you are registered, go to the Game Selection Lobby and select the game you wish to enter.  This is a screenshot of the Lobby:
Final Step:  Fanduel's games range in price from $1 to $500 and you can play against a single opponent or enter a tournament with 5, 10, 20 or unlimited number of opponents.  Once you decide which game you prefer, click the enter button and you will then be presented with the following screen to build your team: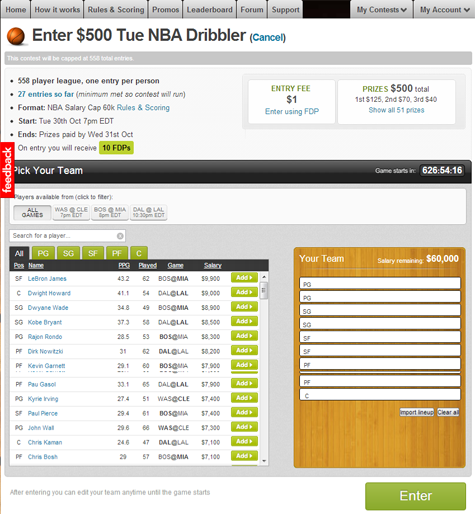 Once your team is built, just click the green Enter button and you are ready to go!  If you want to change your picks at any time, you are allowed to adjust your team as much as you want all the way up until the first NBA game of the night tips off.  After tipoff it's time to sit back and enjoy the night's NBA action and track your daily fantasy team with Fanduel's realtime live scoring.  When you win your game, Fanduel will deposit your winnings into your account a couple of hours after that night's NBA action is complete.
REGISTER NOW FOR FREE and enjoy daily fantasy action!
Tags: daily fantasy contests, daily fantasy sports, FanDuel, fantasy basketball
Mar 17, 2012 Blog
Baseball season is almost here and my posting at Fantasy Basketball Daily will now only consist of fantasy basketball playoff advice a couple of times a week for the rest of the regular season.   I got out of the flow by missing last week and I've got to miss a few days this week too, so I figure it's best to move to weekly playoff advice now since I was going to scale back posting anyway once opening day of baseball season got here.
I'll also be maintaining the blog and putting up weekly posts in the offseason about the NBA draft, trades, starting position battles, etc., so keep me in your favorites tab!
I've enjoyed posting the Pre-Game report for all the daily fantasy cash game players out there and I hope you guys have a great remainder of the season.  Don't forget that all the daily sites like Fanduel, Daily Joust and DraftStreet will be having daily fantasy baseball cash games and tournaments, so definitely check them out!  I'll be playing daily, so say hello if you see me around  the chatrooms.
Good luck the rest of the season and I'll hit you guys up with some fantasy basketball playoff advice later this week.
Tags: daily fantasy picks, daily fantasy sports, Daily Joust, FanDuel, fantasy basketball
Mar 13, 2012 Blog
Tuesday's Fantasy Basketball Daily Tournament Schedule:
Fanduel $1500 NBA Assist – 7:00 PM EST, $5 Entry, Top 36 Teams Paid
Fanduel $2500 NBA Shot – 7:00 PM EST, $2 Entry, Top 123 Teams Paid
Fanduel $4000 NBA Rebound – 7:00 PM EST. $10 Entry, Top 53 Teams Paid
Fanduel $4000 NBA Slam – 7:00 PM EST, $25 Entry, Top 16 Teams Paid
Fanduel Two Player Head to Head Matches – 7:00 PM EST, $1 to $535 Entry
Tuesday's NBA Schedule, Probable Starting Lineups, Lines, Injuries and Daily Fantasy Tournament Cash Game Picks
Miami (-4)  @ Orlando    189.5 Total
MIA:  M. Chalmers, D. Wade, L. James, C. Bosh, J. Anthony
ORL:  J. Nelson, JJ Redick, H. Turkoglu, R. Anderson, D. Howard
Jason Richardson is out.  JJ Redick will get the start.
Jameer Nelson has a decent matchup and could be a nice daily play if the Heat focus too much on Dwight Howard.
Daily Fantasy Tournament Sleeper Pick:  JJ Redick
Toronto @ Cleveland  (-4)   194 Total
TOR:  J. Bayless, D. DeRozan, J. Johnson, A. Johnson, A. Bargnani
CLE:  K. Irving, A. Parker, A. Gee, A. Jamison, R. Hollins
Jose Calderon is out.  Jerryd Bayless will get the start at PG and makes a solid daily play.
Jerryd Bayless could have some problems covering Kyrie Irving.
Andrea Bargnani has a nice matchup against the soft interior of the Cavs.
Daily Fantasy Tournament Sleeper Pick:  Jerryd Bayless
Portland @ Indiana (-3.5)   190 Total
POR:  J. Crawford/R. Felton, W. Matthews, G. Wallace, L. Aldridge, M. Camby
IND:  D. Collison, P. George, D. Granger, D. West, R. Hibbert
Daily Fantasy Tournament Value Pick:  Roy Hibbert
LA Lakers @ Memphis (-1)   182 Total
LAL:  D. Fisher, K. Bryant, M. Peace, P. Gasol, A. Bynum
MEM:  M. Conley, T. Allen, S. Young, M.  Speights, M. Gasol
Rudy Gay is out with a concussion.  Sam Young will get the start.
Look for OJ Mayo to pick up some extra minutes as the Grizz will need someone to pickup the offense with Gay out.
Zach Randolph is doubtful.
Kobe Bryant draws the tough coverage of Tony Allen.
Daily Fantasy Tournament Value Pick:  Pau Gasol
Houston @ Oklahoma City (-11)   204 Total
HOU:  G. Dragic, C. Lee, C. Parsons, L. Scola, S.  Dalembert
OKC:  R. Westbrook, D. Cook, K. Durant, S. Ibaka, K. Perkins
Jordan Hill is out with the flu.
Kevin Martin is a gametime decision.  Courtney Lee would get the start if Martin can't go.
Kyle Lowry could be out for the next two weeks.
Daily Fantasy Tournament Sleeper Pick:  Goran Dragic
Daily Fantasy Tournament Value Pick:  Russell Westbrook
Washington @ Dallas (-12.5)   198.5 Total
WAS:  J. Wall, N. Young, C. Singleton, T. Booker, J. McGee
DAL:  J. Kidd, V. Carter, S. Marion, D. Nowitzki, B. Haywood
Brendan Haywood is probable.
Daily Fantasy Tournament Value Pick:  Dirk Nowitzki
Atlanta @ Denver (-5.5)   195.5 Total
ATL:  J. Teague, K. Hinrich, J. Johnson, J. Smith, Z. Pachulia
DEN:  T. Lawson, A. Afflalo, D. Gallinari, Nene, K. Faried
Rudy Fernandez is probable.
Daily Fantasy Tournament Value Pick:  Josh Smith
Golden State @ Sacramento (-2.5)   207.5 Total
GSW:  S. Curry, M. Ellis, D. Wright, D. Lee, E. Udoh
SAC:  T. Evans, M. Thornton, I. Thomas, J. Thompson, D. Cousins
Stephen Curry is a gametime decision with an ankle injury, as usual.
Daily Fantasy Tournament Value Picks:  Monta Ellis, David Lee
Tags: daily fantasy picks, daily fantasy sports, FanDuel, fantasy basketball
Mar 12, 2012 Blog
I didn't get back in until late last night and due to work I haven't had much time today to catch up on everything that has happened since last Tuesday, so double check these starting lineups just in case I've missed something.
Monday's Fantasy Basketball Daily Tournament Schedule:
Fanduel $1500 NBA Assist – 7:00 PM EST, $5 Entry, Top 36 Teams Paid
Fanduel $1000 NBA Dribbler – 7:00 PM EST, $1 Entry, Top 100 Teams Paid
Fanduel $2500 NBA Shot – 7:00 PM EST, $2 Entry, Top 123 Teams Paid
Fanduel $4000 NBA Rebound – 7:00 PM EST, $10 Entry, Top 53 Teams Paid
Fanduel $4000 NBA Slam – 7:00 PM EST, $25 Entry, Top 16 Teams Paid
Fanduel Two Player Head to Head Matches – 7:00 PM EST, $1 to $535 Entry
Monday's NBA Schedule, Lines, Injuries, Probable Starting Lineups and Daily Cash Tournament Picks
Milwaukee (-3) @ New Jersey   198.5 Total
MIL:  B. Jennings, C. Delfino, T. Harris, E. Ilyasova, D. Gooden
NJN:  J. Farmar, D. Stevenson, M. Brooks, K. Humphries, S. Williams
Deron Williams is out.  Jordan Farmar should get another start.
Mike Dunleavy could be a nice sleeper in this one.
Daily Fantasy Tournament Sleeper Pick:  Jordan Farmar
Tags: daily fantasy picks, daily fantasy sports, fantasy basketball, fantasy sports betting